UAE's First Certified Sustainable Restaurant
We stuck to our vision and in 2018, Roots Bistro was awarded a 3 Star and became the First Certified Sustainable Restaurant in the Middle East and Africa!
As the means of production have become separated from society, "eating to live" has overtaken "living to eat". Society and culture have both suffered and we hope to help adjust the balance. Ingredients that are locally sourced, lovingly cultivated and freshly harvested lie at the core of our vision.
It took us 5 years of research until we finally created a holistic model that outlines the values by which we choose to live, and operate by. Sustainability in restaurants starts from the design stage and extends throughout the lifetime of the restaurant. The Sustainable Restaurant Association (SRA) created the framework of 14 key focus areas, which we are adopting at Roots Bistro.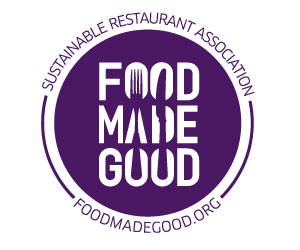 Community
Local sourcing
Sourcing from most farms in Al Ain area.
This encourages and supports local farmers.
Community engagement
Engaging with the community (e.g. Local UAE, Khalifa fund, Organic Guild, schools).
Treating employees fairly
Providing growth and training opportunities, bonuses and wellness programs. Policies to keep employees happy and productive.
Health
Seasonal and organic ingredients
Our seasonal menu ensures food is more delicious and nutritious.
Healthy eating
Calorie count, nutritious ingredients, ethical food prep and dietary options (vegan, low sodium, sugar free).
Packaging
Biodegradable & recycled packaging materials.
Environment

Waste Reduction
Monitoring & reducing waste (including food). Cross utilization of tools (e.g. waterblade, sensors, thermostat).

Waste Management
Recycling non organic waste and composting organic waste for farms to use as fertilizers.

Supply Chain
Considering the social and environmental impact of supply chain transportation. Sourcing most produce from within 100 KM & using electric bikes for deliveries within DSO.

Nutrient rich & chef crafted
Our meals are seasonal, organic, dairy-free and free of refined sugars. Our Flavor Master is constantly adjusting the menu, based on what's in season, drawing upon the latest culinary techniques to meet your preferences.
Ingredients you can trust
To ensure our meals are as delicious and nutritious as possible, we source
sustainable proteins and organic produce from local farms
that use healthy and sustainable agriculture practices.
Cooking methods & transparency

We communicate the macronutrients, allergens, method of cooking and processing on our menu, ensuring you know how your dish was created – without additives or hidden ingredients.

Energy, water and waste
Air-conditioning, appliances, lighting, taps, food waste, oil & grease, waste contracting.
Furniture and fit-out
Windows, insulation, paint and finishes (low VOC), furniture (Forest Stewardship Council).

Other factors
Air quality, acoustics, access to natural sun.